The Liberty Hi-Railers use TMCC for train operation.
Basic TMCC wiring is pretty simple.
Some advanced setups are not as obvious. This article discusses basic TMCC connectivity and slightly advanced setups using TPCs.
Basic Wiring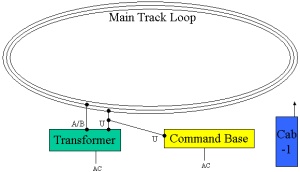 To establish basic TMCC use on a layout is not too difficult. Assuming your layout is 1 main line loop, you will be able to:
Run 1 Conventional engine using your transformer.
Run 1 or more TMCC engines using your CAB-1
In theory you can run a conventional engine and a TMCC engine simultaneously, but this is very dicey and I do not recommend it.
You will need the following in addition to your layout (track and transformer).
-- OR --
All that remains to be done is put batteries in the CAB-1, connect the U terminal on the Command Base to your outside rail and plug in the power adapter for the command base.
The documentation with your engines and the Command Base will explain how to use the CAB-1 to control the engine.
To operate a conventional engine simply put if on the track and operate it with the transformer as normal. To operate a TMCC controlled engine, put it on the track and set the transformer to about 16 or 17 volts, then use the CAB-1 to control the train. If your loop is big enough, you could put two command engines on the loop and control them both with the single CAB-1. Just press Eng and the engine number to switch the CAB-1 between engines. Or you could use two CAB-1's and two Engineers one for each engine.
Two Track Wiring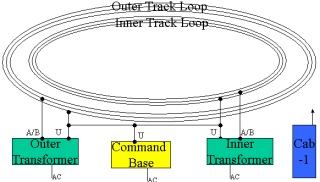 If you have two tracks, you still need only one command base and CAB-1. Simply connect the U (outer ground) terminal of the command base to the second tracks outside rail / ground.
Now you will be able to run two conventional engines, one on each loop. Or you can run a conventional engine on one loop and command engine on the other loop. Or you could run two command engines one on each loop.
You can add as many loops as you like by just connecting the outside rails to the command base U post.